Four Basic Final Fantasy XIV Classes | FF14 Jobs
FFXIV4Gil
Date: Jan/11/20 14:40:50
Views: 3540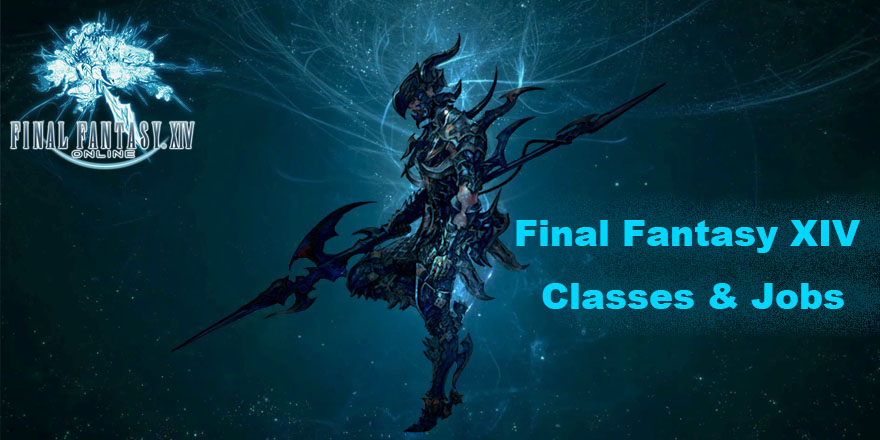 Here is the general introduction to Final Fantasy XIV's classes, cause you know, a lot of players, particularly for some new beginners, they have a piece of quite limited basic knowledge to the game, let alone the classes in FF14. Therefore, here I posted this article to help those gamers to know what are the classes in Final Fantasy XIV and what jobs each class contains to help gamers choose the right role to play.
First of all, what is a class in Final Fantasy XIV?

Classes, as a matter of fact, embody the character classes from other MMOs (Massively Multiplayer Online (games)), and they are the signature of every character in the world of Final Fantasy XIV (FF14).What's more, they provide starting skills and can grow into jobs, which diversifies the player experience in the future. in other words, once you get into this game, then your character has a quite basic class, which is a specialist in a type of weapons, before branching into a specialized job or two when you hit level 30. And what's more, there is a fourfold classification of adventurers based on the disciplinary paths to which they devote themselves.

And here are the four classes that you should know about:

However, these four classes can also be divided into two:

The very first one is: Battle Classes

And Battle Classes contain:

①Disciple Of War, masters of arms who live for the call of combat.
②Disciple Of Magic, erudite researchers of all things esoteric.

The second one is: Non-Combat Classes
And Non-Combat Classes contain:

①Disciple Of The Hand, crafters who invest their creative ingenuity in synthesis and industry.
②Disciple Of the Land, gatherers of material resources and students of the natural order.

There is one more thing that gamers need to know, in Final Fantasy, Eorzea, in fact, is home to myriad disciplines, or classes, that adventurers can take up. And in order to be better prepared to brave the wilds, all adventurers start their journey as either a Disciple Of War or Disciple Of Magic. For those more experienced adventurers can take up some other martial classes to enhance their skills. And of course, if you seek more peaceful pursuits, you might consider becoming a Disciple of the Hand or just becoming a Disciple of the Land is also a quite nice choice, as well.

Anyway, each class is performing unique actions acquired through experience, What's more, achieving a certain level of mastery in a certain class will unlock its respective job, which features even much greater specialization. Every class can grow into one job, except for arcanists which can only specialize into a scholar or a summoner.

And speaking of jobs, they are, in fact, an extension of their base classes, and usually, the jobs require a Soul Crystal to activate. And each job acquires additional role-specific actions based on the job's role in group content (Tanking, Healing, DPS (Damage Dealers): Magic Ranged DPS, Melee DPS, and Physical Ranged DPS).

And here is the Base Class for you check:

Disciple Of War's Base Class:

1. ARCHER
2. GLADIATOR
3. LANCER
4. MARAUDER
5. PUGILIST
6. ROGUE

Disciple Of Magic's Base Class:

1. ARCANIST
2. CONJURER
3. THAUMATURGE

Disciple Of The Hand's Base Class:

1. ALCHEMIST
2. ARMORER
3. BLACKSMITH
4. CARPENTER
5. CULINARIAN
6. GOLDSMITH
7. LEATHERWORKER
8. WEAVER

Disciple Of The Land's Base Class:

1. BOTANIST
2. FISHER
3. MINER

And now, here is the Jobs for you check:

Disciple Of War's Jobs:

1. BARD
2. DANCER
3. DARK KNIGHT
4. DRAGOON
5. GUNBREAKER
6. MACHINIST
7. MONK
8. NINJA
9. PALADIN
10. SAMURAI
11. WARRIOR

Disciple Of Magic's Jobs:

1. ASTROLOGIAN
2. BLACK MAGE
3. RED MAGE
4. SUMMONER
5. SCHOLAR
6. WHITE MAGE

Disciple Of Magic's Limited Job:

1. BLUE MAGE

And here is one more thing that you need to keep in mind, which is you can level all classes and jobs on one character.

And now, that's a wrap about the basic Final Fantasy XIV's classes and job, and here you can check the ROLES In FFXIV, what's more, we promise we will post more useful information out very soon to make gamers know this game much better, and what's more, about these classes and job more information, like how to farm ffxiv gil when you are playing one of the specific character, we will also post it out very soon.

Well, have fun playing Final Fantasy XIV and enjoy your time better.