Final Fantasy XIV: How to Get & Use Aglaia Coins?
FFXIV4Gil
Date: Apr/26/22 11:13:48
Views: 965
Square Enix added another new currency for its endgame content in Final Fantasy XIV called Aglaia coins, and it is leaving many players confused with no clue how it got or what you should do with it. This guide will tell you everything you need to know about Aglaia Coin, from what it is to how to get and use it.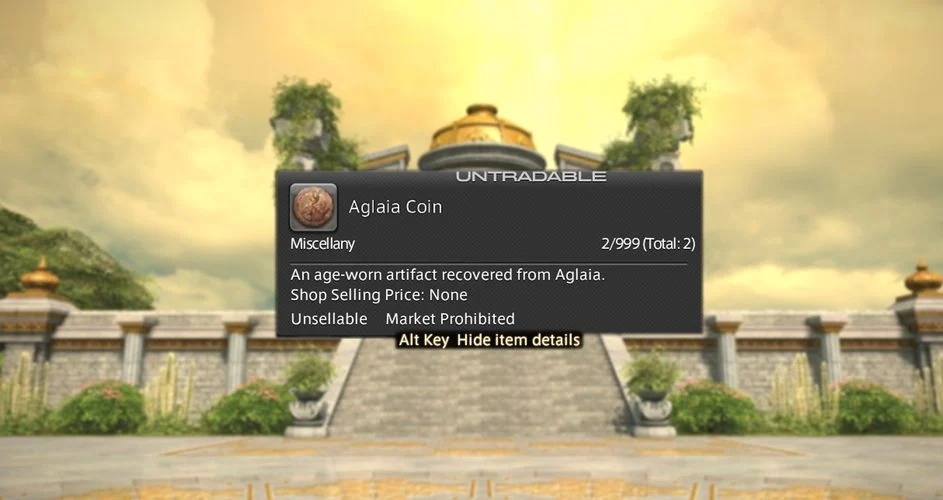 What are the Aglaia Coins?

Aglaia Coins are the newest raid currency to be added to FFXIV, which can be used to get some of the strongest gear currently available in the game.

How to Get Aglaia Coins?

Below we are giving the steps to acquire the Aglaia Coins:

1). To get these coins, you have to unlock and complete FFXIV's newest Alliance Raid, Myths of the Realm.
2). Before doing this, you will need to complete several new MSQs added to FFXIV 6.1. Specifically, the A Brother's Grief Main Scenario Quest.
3). First, complete the Alzadaal's Legacy Dungeon and then complete A Brother's Grief.
4). This will then kick off the Myths of the Realm Quests quest chain, where you will gain access to Aglaia during The Realm of the Gods quest.
5). Upon completing Aglaia, you can earn a separate reward: two Cracked Anthoclusters and one Aglaia Coin.
6). You can earn one coin every week.

Where to Spend Aglaia Coins?

You looking to spend your hard-earned Aglaia coins can do so in the city of Radz-at-Han to get higher iLvl gear. Here's how to use them:

1). To exchange Aglaia Coin, go to an Au Ra NPC named Nesvaaz.
2). This NPC can be found in Radz-at-Han's main Aetheryte Crystal (coordinates – X: 10.6, Y: 10.0).
3). Use Aglaia Coin to purchase Radiant Twine and Radiant Coating.
• Radiant Twine: A translucent thread produced at the High Crucible of Al-Kimiya, used to enhance the properties of the Radiant Hosts' vestments.
• Radiant Coating: A translucent substance produced at the High Crucible of Al-Kimiya, used to enhance the properties of accessories worn by the Radiant Host.
4). You can then take this upgraded material to another Au Ra NPC named Khaldeen (X: 10.9, Y: 10.4), located just south of the Aglaia Coin vendor.
5). Finally, you can trade either the twine or coating and the tomestone Radiant gear to obtain the Augmented Radiant gear.
6). This access to high-level gear is another reason you can play through Final Fantasy XIV's Greek-inspired alliance raid.

And that's how you can get and use Aglaia Coins in Final Fantasy XIV. If you need any more help with Final Fantasy XIV, check out ffxiv4gil.com. Most importantly, another important currency is also sold here, namely Final Fantasy XIV Gil, which is cheap, fast, and safe to trade to help you get a better gaming experience.